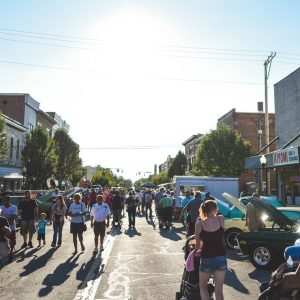 You'll most likely—hopefully—agree that Bellefontaine, Ohio has so much to offer both its residents and visitors. From tasty restaurants (Six Hundred Downtown and Iron City Sports Bar) to clothing boutiques (Four Acre Clothing Co. and The Poppy Seed), just about anything and everything can be found in our safe, welcoming city.
Additionally, Bellefontaine has a rich history of fun and interesting facts you may be unfamiliar with or surprised to learn. For example, Bellefontaine is French for "beautiful spring." Did you know that? How about the fact that the only Dutch-style historical theatre in the United States—Holland Theatre—can be found in Bellefontaine?
And it doesn't stop there! We've got even more facts about Bellefontaine, Ohio for you to enjoy.
We're taking you for a ride, so buckle up! Better yet, stop over at Whit's Frozen Custard for a delicious treat to snack on while catching up on some local (and fun!) history. You won't regret it!
Fun Fact #1:
Bellefontaine has street cred!
In case you didn't know, George Bartholomew is the man celebrated for bringing cement and concrete to the Midwest. Better known as "artificial stone" in the 19th century (i.e. concrete), the mixture had never been used to pave a street until 1891. Bartholomew convinced the Bellefontaine City Council to try it on Court Avenue in Logan County, resulting in the first concrete paved street in America.
Bellefontaine is also home to McKinley Street, which happens to be the shortest street in America. Its length is just 20 feet.
Fun Fact #2:
Bellefontaine's Past Celebrities
Stars, they're just like us: They've lived in Bellefontaine, too!
Bellefontaine, Ohio has seen its fair share of celebrities. Edward D. Jones graduated from Bellefontaine High School in 1913. Jones, originally from St. Louis, Missouri, relocated to Bellefontaine with his family before graduating from New York University in 1916 with a degree in business administration. Jones went on to become a famous investment banker and eventually founded Edward Jones Investments.
Norman Vincent Peale was a famous minister and best-selling author who graduated from Bellefontaine High School. He helped popularize the concept of popular thinking. Louie Vito, a local snowboarder and 2010 Olympic Athlete, is also from Bellefontaine. Vito has won numerous medals in the Winter X-Games and even competed on Dancing with the Stars.
Fun Fact #3: Bellefontaine celebrated a BIG birthday in 2020.
At least one good thing came out of 2020: Bellefontaine celebrated a milestone birthday—and a big milestone at that!
Founded in 1820, Bellefontaine officially turned 200 years old in 2020. With this birthday, the city proved one thing to be certain: some things do get better with age! Wouldn't you agree?
If You Didn't Know. . . Now You Know!
So, there you have it! For your enjoyment, three facts about Bellefontaine, Ohio to help reiterate just how amazing your hometown is—in case you needed the reminder.
The next time you need or want a vacation, consider a staycation right in Bellefontaine! There is so much to do and see right in your very own backyard.