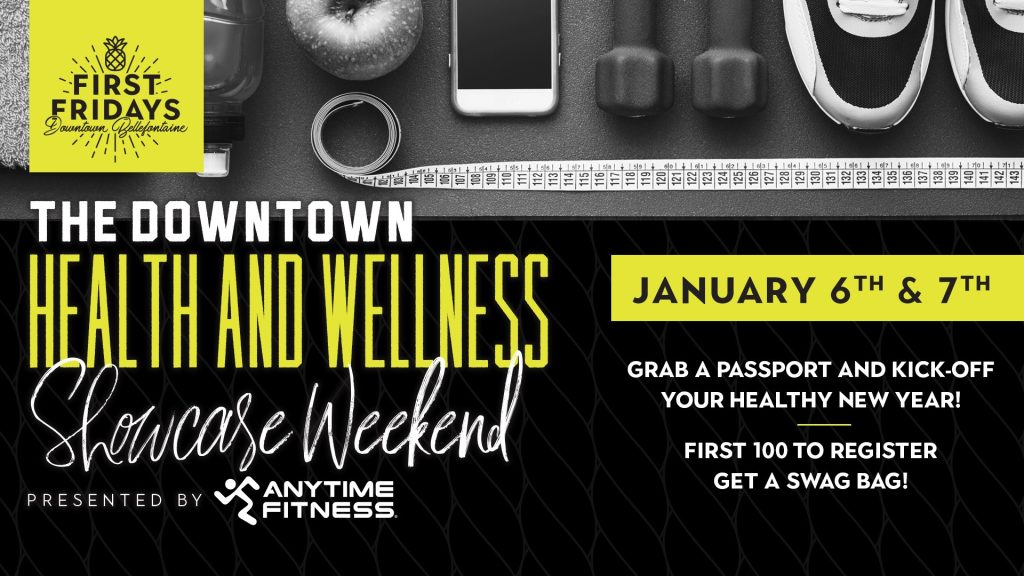 New year. New goals. New you! It's officially 2023, and if you've decided to take control of your health and be the best version of yourself starting January 1st, then Downtown Bellefontaine has some extra exciting news to share with you.
Presented by Anytime Fitness, this time around, the first Friday of January 2023 won't just be a celebration, but an entire event! Dubbed the "Downtown Health & Wellness Showcase Weekend," this opportunity will present several chances for you to better yourself and check off those health goals on your list.
Here's what you need to know: The first 100 people to register for passports will receive an Anytime Fitness/First Fridays swag bag filled to the brim with fun (and practical!) promo items for Downtown Bellefontaine businesses. These bags will be available for pickup at the Logan County Chamber of Commerce office on Thursday, January 5th, and Friday, January 6th, from 9 AM to 4 PM.
Don't worry if you miss registration, though. Additional passports will be available at participating locations throughout the weekend. Though, if you're able to, we do recommend registering beforehand.
During this event, you can mark spots on your passport by visiting various destinations and experiencing the self-care side of our city.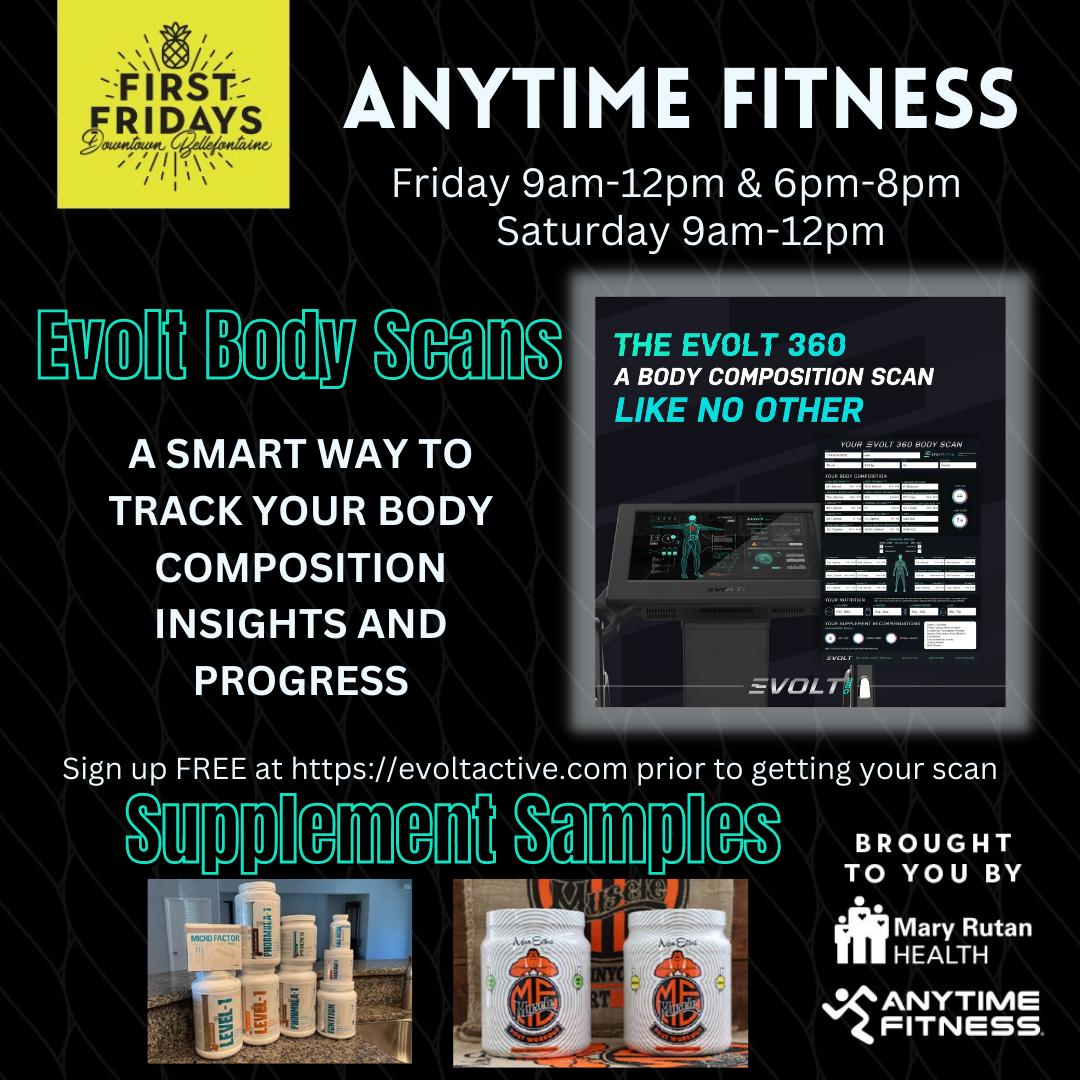 Specifically, Evolt body scans (a smart way to track your body composition insights and progress) and supplement samples will be offered by Anytime Fitness. Homegrown Yoga will host a yoga studio open house, as well as provide boutique deals. Stop by Mary Rutan Health for blood pressure checks and skin cancer screenings. Schedule your financial wellness consultation with Ameriprise and review your prescription costs with Prescription Bliss. And don't forget about the facial demos and complementary hair tinsel at the local salons.
Additionally, on Friday, A Peaceful Place Massage Co. will be offering free, five-minute chair massages from 3 to 7 PM. Plus, you can take advantage of an amazing special: When you book and pay for a January or February 60-minute massage, you'll receive an extra, complimentary 15 minutes added to your session.
Also, the ladies from Honestly Clean will be showing off their amazing, state-of-the-art cloth with window cleaning demonstrations on Friday, January 6th, from 4 to 7 PM. They want to share the importance (and ease!) of going paper-free. Here's a friendly tip: Book a service and you'll receive your own free cloth!
After all, creating a healthy new you isn't just a physical commitment; it's necessary to have tidy surroundings, too.
Don't worry . . . the savings won't stop there! Therefore, make sure you keep an eye on our Facebook page for all up-to-date offers as they continue to get added to the list! Get ready to learn things about your body that you never knew!
When you establish positive physical health habits, you can successfully decrease your stress levels, lower your risk of disease, and increase your energy. Remember, we're only blessed with one body. The time to start taking care of our bodies is now—right now!
So, are you ready to grab control of your physical, mental, and emotional health? Kickoff 2023 the right way, at the Downtown Health & Wellness Showcase Weekend. You're completely worth it.