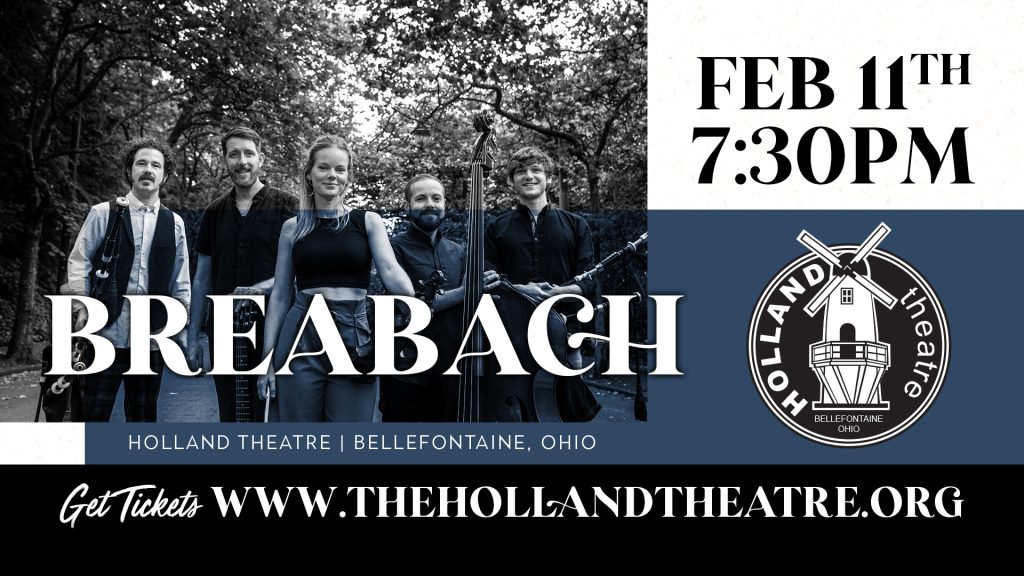 Calling all music lovers! There's a special event happening at Holland Theatre on Saturday, February 11th, at 7:30 PM. There's still time to get tickets—but you have to act now! If you could use a night out on the town, this is it! Don't miss out on what is sure to be a fun-filled evening.
What's Happening?
Are you familiar with Breabach? Ranked among Scotland's most skilled and imaginative contemporary folk acts, Breabach unites deep roots in Highland and Island tradition with the innovative ferment of their Glasgow base. To date, the band has released more than six increasingly-acclaimed albums, performed all over the world, and racked up an impressive array of accolades, including five Scots Trad Music Awards.
Currently, the band consists of five members: Calum MacCrimmon, Megan Henderson, Ewan Robertson, James Lindsay, and Conal McDonagh.
For those who haven't put two and two together yet, we're excited to share that Breabach is coming to Downtown Bellefontaine to perform at the Holland! So, we'll remind you one more time to get those tickets for February 11th before it's too late!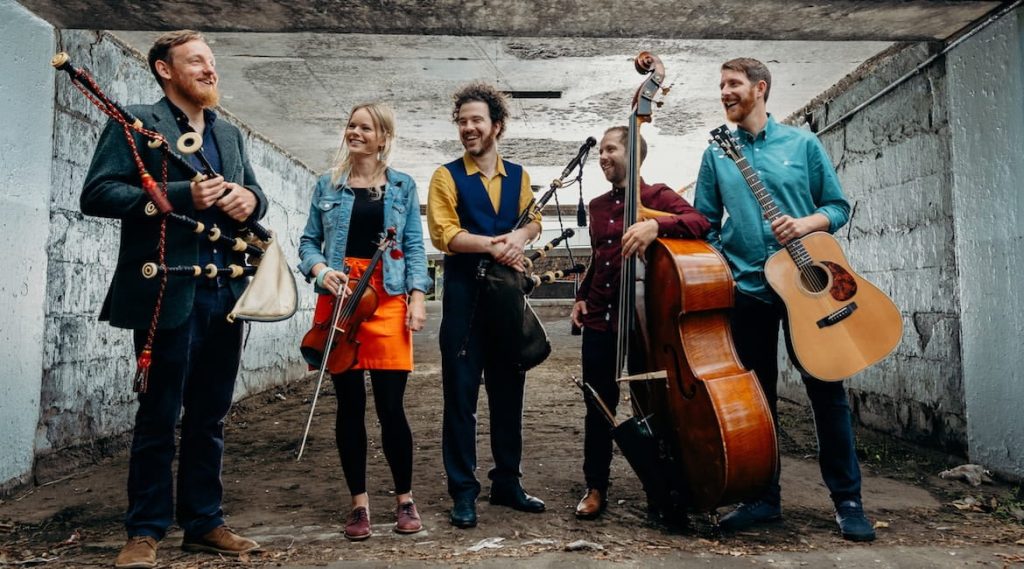 About Holland Theatre
Originally built in 1931, Holland Theatre is the nation's only atmospheric Dutch theatre. After being converted into a cineplex, the building fell into disrepair but was eventually saved from demolition when a local teacher and student took an interest in the structure.
In 2019, buoyed by community support and government and private grants, the theatre completed a multi-million-dollar restoration. Care to take an online tour? Simply click here to see this magical space.
A Night to Remember
If you're considering attending the concert, we recommend making it a night to remember! How, exactly? We're glad you asked!
As you're already aware, Downtown Bellefontaine is well known for its many delicious restaurants, offering a variety of cuisine for all tastebuds. But first, you'll need drinks.
Start your evening early at Brewfontaine with a nice craft beer or glass of wine, available on tap. Or, perhaps you'd prefer cocktails and hors d'oeuvres at The Syndicate. The Syndicate also offers a full dinner menu to choose from, complete with dessert.
Of course, if you're more in the mood for Mexican, that's available at Flying Pepper Cantina, while Kiyomi Sushi offers Asian food and steak.
The best part? All of these restaurants are within walking distance of Holland Theatre. That's right, once you park your car for the night, it can stay parked while you roam the beautiful city, taking in its breathtaking surroundings.
Drinks, check. Dinner, check. Entertainment, check! What more could you want? Additionally, if you're not sure how to spend Valentine's Day with your special, significant other, we just gave you the perfect date night. We promise that we won't even take credit for it! Whether you come alone, with a friend, or with your partner, we hope to see you at Holland Theatre on February 11th at 7: 30 PM to show your support for Breabach. We guarantee you'll be so happy you decided to join in on the fun. To learn about future events and the latest news, make sure to "like" and follow Holland Theatre on Facebook.