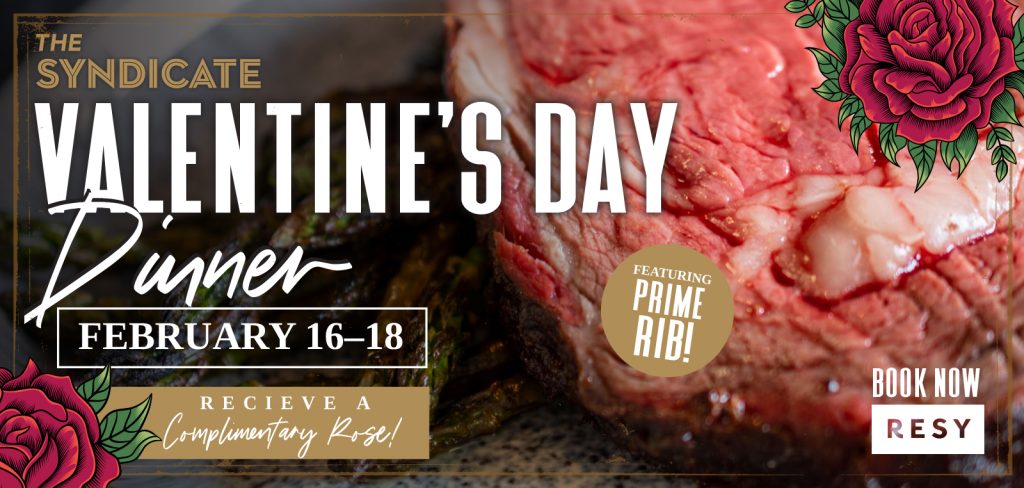 Not sure what to do for Valentine's Day this year? If you need help planning the perfect evening for you and your significant other, say no more! We have the ultimate event for you, an event that is sure to leave your heart happy and your stomach full. The best part? You get to celebrate the holiday in beautiful, Downtown Bellefontaine. What could be better than that?
What's Happening—When and Where?
As you likely already know, Valentine's Day falls on a Tuesday this year. It can be challenging for some to find the time (and energy) to go out through the week. As such, The Syndicate is offering the chance to acknowledge Valentine's Day that weekend, from Thursday, February 16th, to Saturday, February 18th. Below, you'll discover everything you need to know!
To accommodate those who are unable to honor Valentine's Day on February 14th, The Syndicate is hosting a special Prime Rib Dinner from February 16th to February 18th. During dinner service on these three nights, all tables will receive a complimentary rose. If you'd prefer something other than prime rib, no worries—the restaurant's regular offerings will be available, too.
If you're interested in the Prime Rib Dinner or dining at The Syndicate in general that weekend, it is highly recommended that you make a reservation now, before it's too late. We can't stress this enough! Tables will fill up quickly (many already have!), so make sure you secure yours soon. Depending on your preference, high top tables and dining tables are available.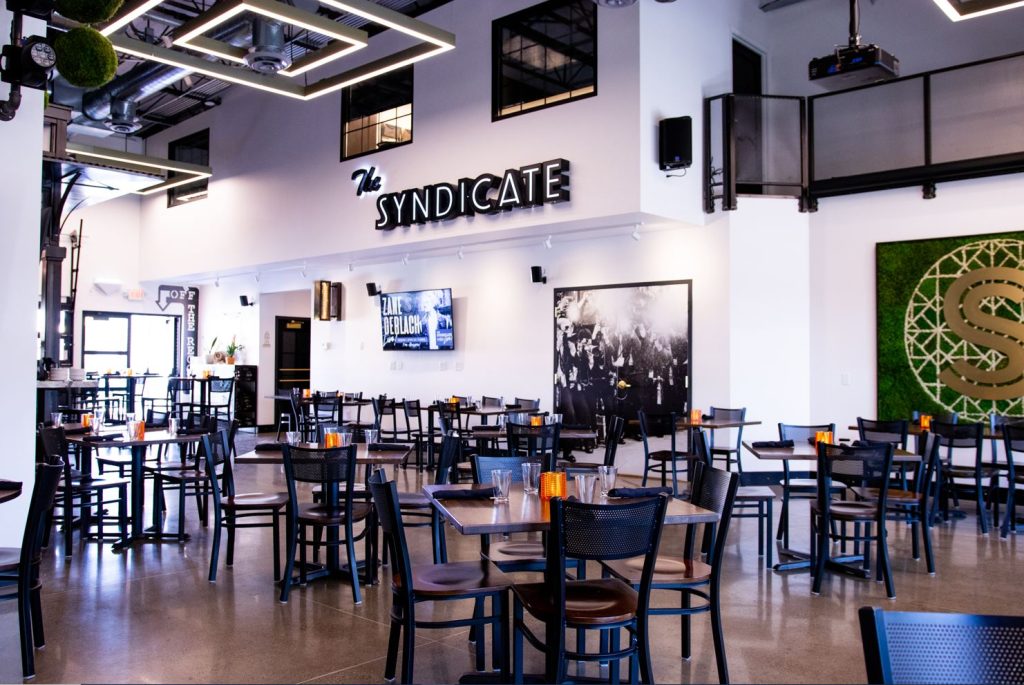 The Syndicate: It's the Place to Be
Have you had the chance to experience The Syndicate yet? If not, you're missing out! This is a fantastic venue for drinks, dinner, and entertainment. Do yourself a favor and check it out!
From 1946 to 1993, the building housed Jackson's News Stand. Today, the décor showcases historic features from its former life.
Upon entering The Syndicate, you'll be greeted by a large, custom-built bar topped with salvaged glass windows and large quartz countertops, all resembling a New York-style newsstand. Additionally, the walls are adorned with local, Ohio newspapers from many years past.
The Syndicate, favorably located in the heart of Downtown Bellefontaine, is a great place to enjoy happy hour, brunch, and/or dinner. For your convenience, the restaurant provides online ordering, catering, and both private and public event hosting. Again, regardless of when you visit The Syndicate, it's always best to make a reservation, just to be on the safe side.
We hope to see you and your guest(s) at The Syndicate this Valentine's Day weekend. It doesn't matter if you come with a partner or friend, we guarantee you'll have an amazing time and a delicious dinner. If you're not familiar with the restaurant's vast menu, view it here—you're in for a treat. Also, remember to reserve your spot!

Don't forget to "like" and follow The Syndicate on Facebook for the latest news and events. You can even sign up for the restaurant's newsletter by clicking here.