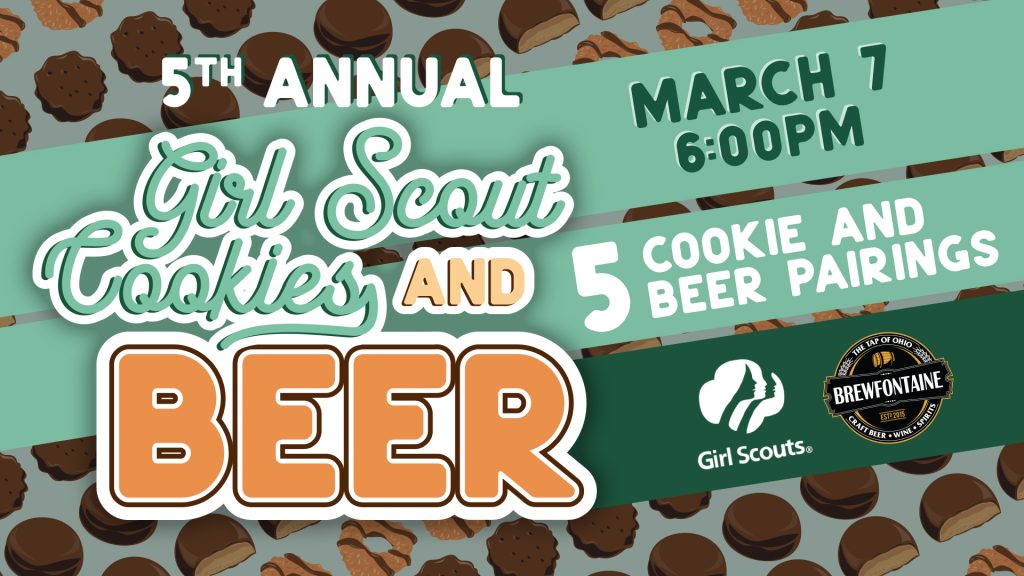 Cookies and beer . . . Do we need to say anything else? Perhaps when, where, and how to participate in what could possibly be the most delicious occurrence in Downtown Bellefontaine history.
The wait is officially over: The 5th Annual Girl Scout Cookie & Beer Pairing event is back and better than ever! Below, you'll find everything you need to know, all the details to ensure you (and your family/friends) have the experience to remember.
On Tuesday, March 7th, at 6 PM, Brewfontaine is the place to be! When you purchase a ticket, you will receive five, five-ounce beers, all of which will be paired with five different Girl Scout cookie varieties (two cookies per variety). This will even include a never before released cookie! How exciting is that?
Additionally, all ticketholders can take advantage of $5 pints and get half off all appetizer purchases. And, if you so desire, full boxes of your favorite Girl Scout cookies will be available to buy.
This is a general admission event, meaning seating is "first come, first serve" on Brewfontaine's back patio. If you'd like to sit with someone in particular or a certain group, we recommend showing up at least 10 to 15 minutes early to increase your chances of preferred seating.
Now for the fun part . . . All of the 2023 scrumptious pairings you can expect to indulge in on March 7th.
Adventurfuls, indulgent brownie-inspired cookies topped with caramel-flavored crème and a hint of sea salt, paired with Toppling Goliath Mornin, an 8.9% latte imperial stout. This imperial coffee milk stout is brewed with lactose and a careful blend of cacao nibs. You can expect a dark chocolate, toasty, sweet coffee taste.
Do-si-dos, crunchy oatmeal-sandwich cookies with peanut butter filling, paired with Ellicottville Blackberry Kolsch, a 5.2% fruit beer, which is brewed with a refreshing, mildly dry, wild blackberry flavor and aroma. You can expect a light, crisp, and delicious taste, as well as natural and earthy berry sweetness.
Samoas, crisp cookies with caramel, coconut, and chocolaty stripes, paired with Toxic Hanger 18, a 6.2% porter. This classic porter offers notes of toasted malt, caramel, and coffee, balanced by a slight hoppiness and elevated by a last-minute addition of coconut for an extra pop of flavor.
Thin Mints, crisp chocolate cookies dipped in a delicious mint chocolaty coating, paired with Bourbon Barrel-Aged White Stout's Dragons Milk White, a 6% beer. You can expect a full-flavored, white stout, with strong notes of vanilla, cocoa, coffee roast, and oak from time in the bourbon barrels.
Raspberry Rally, a thin and crispy cookie infused with raspberry flavor and dipped in a chocolaty coating. Though they may resemble Thin Mints, these cookies have a delicious taste that's all their own, paired with Unity Vibrations Tart Raspberry, an 8.2% kombucha. You can expect sourness, a beautiful color, hints of oak, and a strong sour raspberry flavor. Is your mouth watering yet? To secure tickets, simply click here! In the past, this has proven to be a popular event, so act now! And, don't worry . . . you can start working on that summer body the following week.