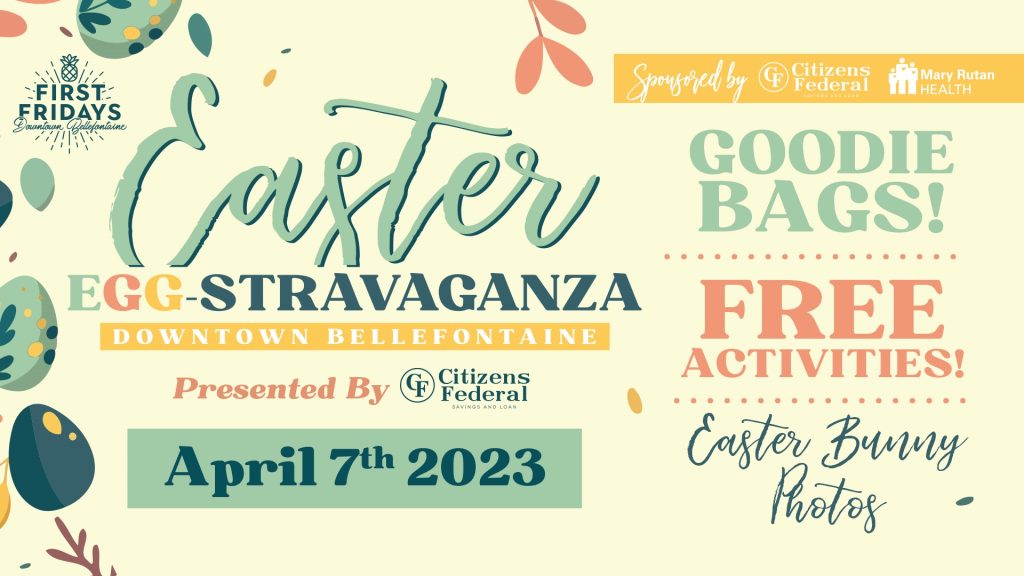 We're celebrating the arrival of a new month in Downtown Bellefontaine, and you know what that means! April is officially upon us, and with it comes First Friday fun for the whole family! Are you thrilled about this extra special adventure, the Easter Egg-Stravaganza? It's going to be egg-cellent! (See what we did there?)
Presented by Citizens Federal Savings & Loan, we guarantee that you and your family don't want to miss this premier event, which happens to be the best way to kick off the spring season. You'll be happy to discover free crafts and activities from Richwood Bank—though, a paid ticket will get you a custom goodie bag, the opportunity to participate in even more, larger activities throughout the evening, and pictures with the Easter Bunny! Following the festivities, Susie from The Photo Booth will conveniently send digital downloads of the images.
These goodie bags are available for just $10, and they include a pass for slime egg coloring at The Fun Company, art and yoga at Homegrown Yoga, and cookie decorating with City Sweets & Creamery in Main Street Marketplace. How egg-citing does that all sound? (Okay, we'll stop!) Ticketed activities start at 4:00 PM.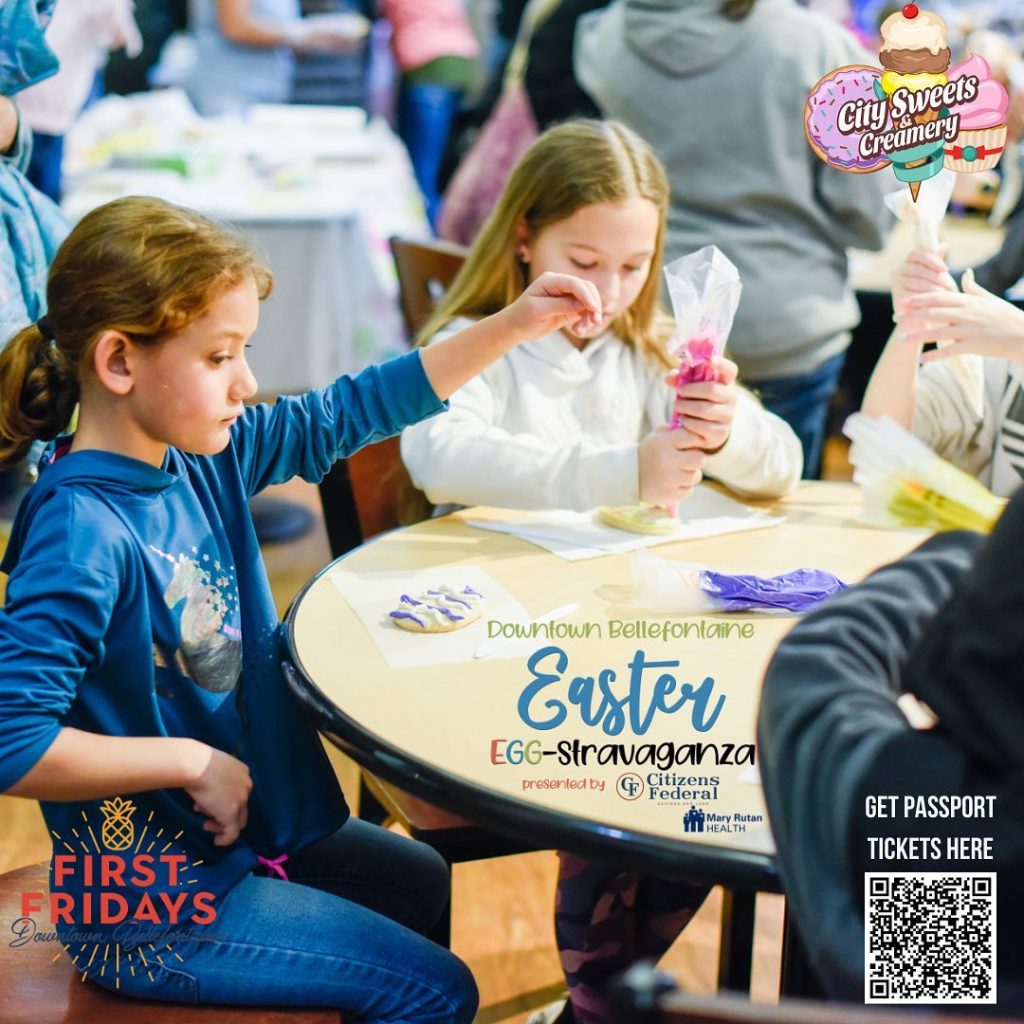 The free activities begin at 1:00 PM and include a glow-in-the-dark egg hunt at Putt and Play Golf Center. Additionally, Mary Rutan Health (found at Rainbow Row's purple building) will hand out complimentary bike helmets after professionally fitting them and offer face painting. Over on Court Street, you'll find food trucks, a live petting zoo from Marmon Valley Farm, and some sidewalk chalk fun.
We weren't lying about this being the event of the new season, so make sure to come out and celebrate with us! Court Street will be open from 4:00 PM to 8:00 PM. Of course, stores, boutiques, and restaurants will be open throughout the downtown area, too, so feel free to shop and eat until your heart is content.
Hop into Spring with Downtown Bellefontaine
So, are you going to hop into spring with us this Friday? You won't regret it. Not only is this event a great way to commence that spring is finally here (or definitely on its way), but also the fact that it's an important holiday weekend. As such, plan now for what is sure to be a night to remember.
We want to remind you again that this event is for the entire family—regardless of age. We are proud to provide fun for everyone.
If you and your family are interested in purchasing custom goodie bags, you can simply (and quickly!) do that by clicking here. We recommend doing so sooner rather than later to potentially avoid missing out.
Don't forget . . . the Easter Bunny will be in attendance, and your kiddos are invited to get a photo taken to document the experience. After all, this is how memories are made, and Downtown Bellefontaine wishes to help you and your family make as many as possible.
Therefore, mark your calendars—we'll see you on Friday, April 7th.