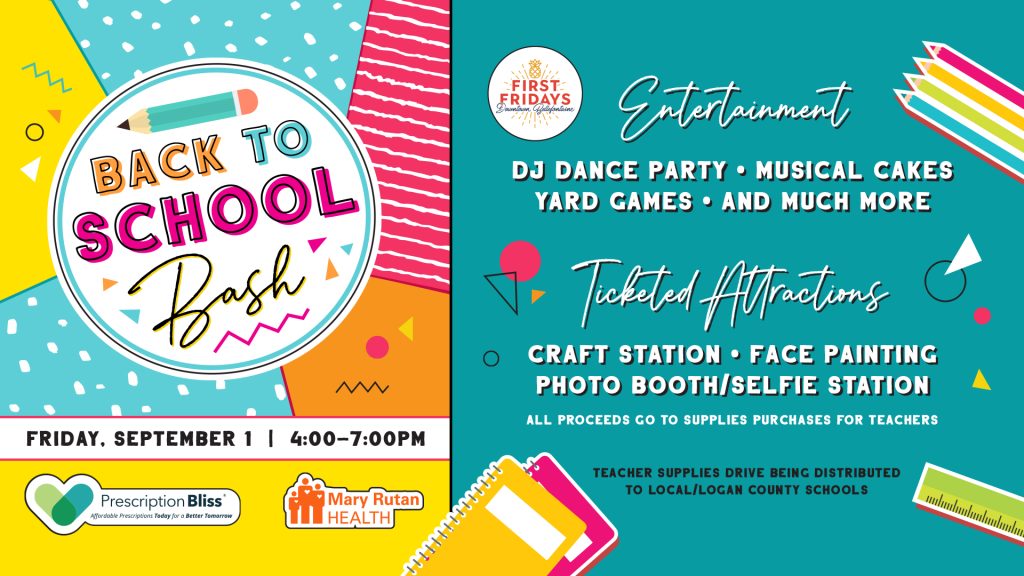 Can you believe that September is just about here? Where has the summer gone? Though it may be time to say goodbye to long, sunny days and afternoons spent by the pool, we're going to welcome the change in season with a big, loud, fantastic bash! Are you ready to have some First Friday fun?
You're invited to join us Friday, September 1st, from 4 to 7 PM in Downtown Bellefontaine for an unforgettable end-of-summer celebration that we guarantee will be memorable for the whole family!
A Jam-Packed Evening of Thrills
We're so excited to bring you an electrifying lineup of activities that will keep all ages entertained. So, grab your shopping passport at the check-in table to unlock exclusive downtown deals during the event. Then, return your completed passport for a chance to win one of three shopping spree checks!
Here's a sneak peek at what you can expect at our Back to School Bash:
DJ Dance Party
Get your groove on as our DJ spins the hottest tunes. Dance the evening away with your friends and family on the open dance floor.
Time Capsule Activity
Create lasting memories by participating in our time capsule activity. Share your thoughts and dreams, seal them in a time capsule, and open the capsule in the future for a nostalgic trip down memory lane.
Yard Games
Challenge your pals to a friendly competition with a variety of yard games. There will be something for everyone to enjoy.
Vendor Showcase
Discover a diverse range of vendors offering unique products and crafts. Support local businesses while finding some fantastic items to take home. Win-win!
Free Hot Dogs and Popcorn
We'll be serving up free hot dogs and popcorn to all attendees, ensuring that no one goes hungry during the bash!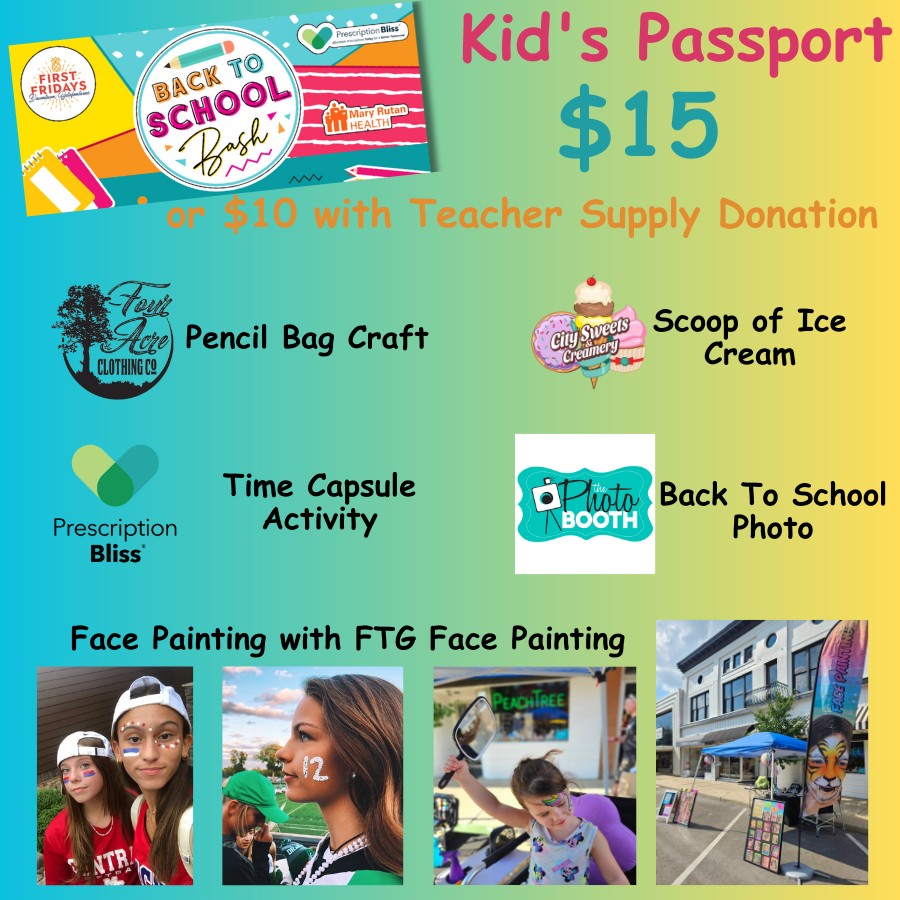 Supporting Education with Kids Passports
For an even more amusing evening, consider purchasing a $15 kids passport. With this passport, your little ones will have access to:
Face Painting
Let your kids' creativity shine with face painting that transforms them into their favorite characters or creatures.
Craft Session with LoCo Art
Unleash your child's artistic talents with a special craft session led by LoCo Art. They'll design something beautiful to take home.
Photo Booth/Selfie Station
Capture the joy of the evening with a fun photo opportunity at the photo booth. Create lasting memories with family and friends.
The best part? Every dollar from passport sales will go towards purchasing teacher supplies to help fill up classrooms in Logan County. Your support will directly benefit local educators and their students. Plus, if you'd like to contribute by dropping off a donation at one of our participating locations, you'll receive a $5 discount on your passport!
All the excitement will take place at the spacious parking lot behind the Main Street Market Place. This is where you can check in for the event, drop off your donations, and pick up your passport. We can't wait to see you there on Friday, September 1st, from 4 to 7 PM. To purchase a kids passport, click here!