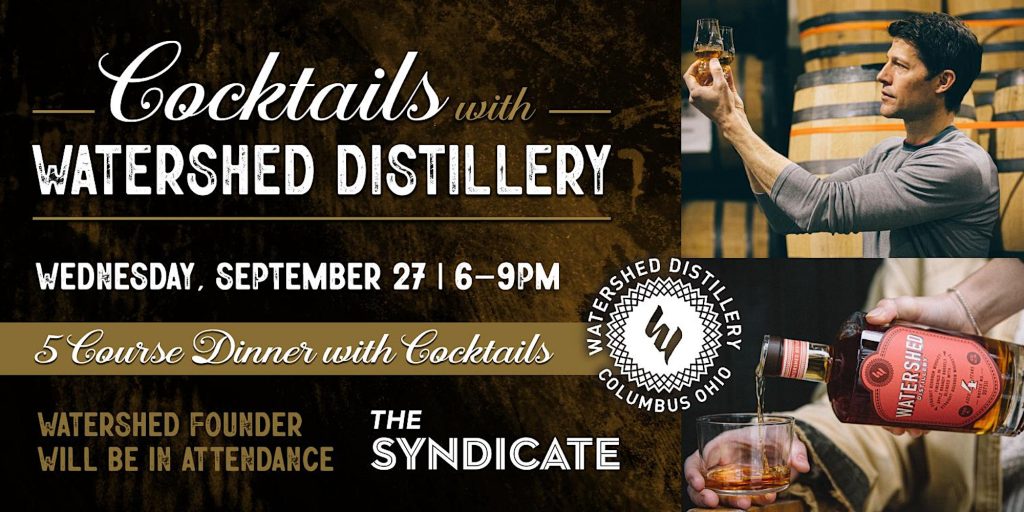 Bellefontaine, Ohio, is about to witness an evening of culinary and mixological mastery like never before! The Syndicate, a Downtown Bellefontaine favorite, is hosting its first-ever cocktail dinner pairing with none other than Watershed Distillery. The best part? The founder himself will be in attendance.
Prepare to be captivated by the amazing tastes and intoxicating aromas that await you in this intimate event, taking place on Wednesday, September 27th. Click here for tickets!
A Grand Welcome: French 75 and Amuse Bouche
As you step into The Syndicate's dining area, you'll be greeted with a warm and inviting atmosphere. Your evening begins with a grand welcome—a full-sized French 75 cocktail elegantly prepared to set the tone. This classic concoction of gin, champagne, lemon juice, and sugar is a delightful start to an evening filled with culinary wonders.
To complement your welcome cocktail, the first course brings an amuse bouche that's nothing short of exquisite. Absinthe oysters Rockefeller, featuring shallots, garlic, spinach, Parmesan, and a drizzle of Bearnaise sauce, will tantalize your taste buds and prepare your palate for the journey ahead.
The Art of Pairing: Craft Cocktails and Culinary Delights
Throughout the evening, you'll explore a carefully curated menu of craft cocktails and chef-inspired dinner courses. The art of pairing takes center stage as each cocktail harmonizes perfectly with the corresponding dish.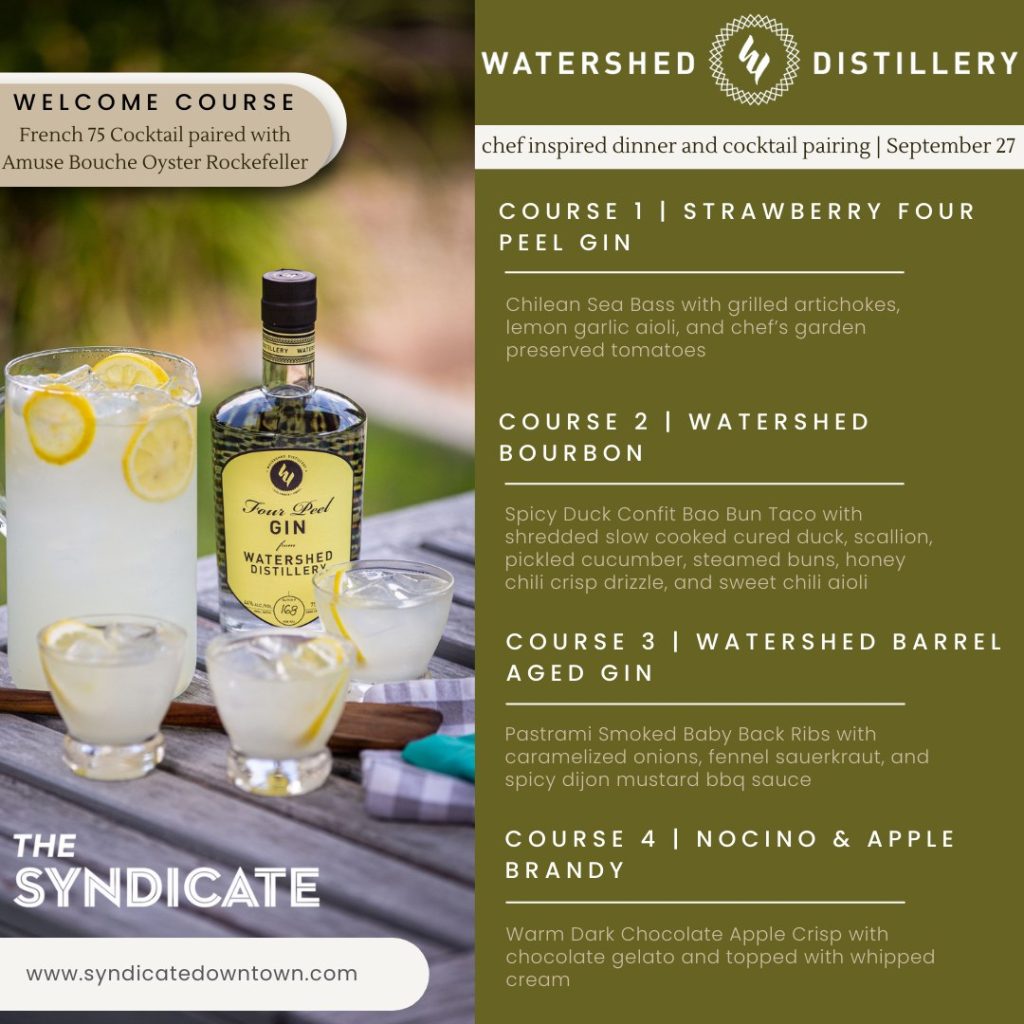 Course 1—Strawberry Four Peel Gin and Chilean Sea Bass Medallion
Course one presents the refreshing strawberry four-peel gin cocktail, which will transport your senses to a summer garden. Paired with a Chilean sea bass medallion accompanied by grilled artichokes, lemon garlic aioli, and chef's garden preserved tomatoes, this course showcases the delicate balance between sweet and savory.
Course 2—Watershed Bourbon and Spicy Duck Confit Bao Bun Taco
Watershed bourbon takes the spotlight in course two, setting the stage for an explosion of flavor. Savor the spicy duck confit bao bun taco, featuring shredded slow-cooked cured duck, scallions, pickled cucumber, steamed buns, and drizzles of honey chili crisp and sweet chili aioli. It's a delightful blend of textures and tastes.
Course 3—Watershed Barrel Aged Gin and Pastrami Smoked Baby Back Ribs
Course three introduces the bold watershed barrel-aged gin cocktail, a perfect match for the pastrami smoked baby back ribs. These succulent ribs are served with caramelized onion and fennel sauerkraut and spicy Dijon mustard BBQ sauce, creating a symphony of smoky and zesty flavors.
Course 4—Nocino and Apple Brandy (Espresso Martini) and Warm Dark Chocolate Apple Crisp
As the evening reaches its end, you'll enjoy the final cocktail: Nocino and Apple Brandy, a delectable espresso martini. Paired with a warm dark chocolate apple crisp, featuring dark chocolate gelato and whipped cream, this course provides a sweet conclusion to your culinary journey.
A Night to Remember
Throughout the evening, the founder of Watershed Distillery will be your guide, sharing insights into the history and intricacies of the products featured. You'll have the opportunity to ask questions and gain a deeper understanding of the art of distillation.
Prepare to be enchanted by the magic that unfolds when craft cocktails, delicious cuisine, and a passionate founder come together at The Syndicate. It's an experience that promises to leave a lasting impression and create cherished memories for all in attendance. Get your tickets here—before it's too late! Please note that this exclusive event on Wednesday, September 27th, is for adults aged 21 and over, as cocktails will be served throughout the evening.